Jerry was in submarines and had been almost 30 years and I guess after being cooped under the sea cramped wall to wall with people he wanted room to roam and always had wanted a farm. He had been Chief of the Boat, and I think he was looking to be Chief of the Farm. I on the other hand would fill a home with people hanging out windows….so real estate was just great, always people. The farm would also fill Jerry's time so he wouldn't notice how many hours I was putting in daily with clients and five builders and running of three offices for Boyer in Conn. A 40 acre farm in Colchester, Conn with a 300 year old center chimney cape was purchased. It had all the bells and whistles like the woods, and rock wall lined paths and small little falls and one big old antique barn. I don't know how it happened but I got caught up in the hooplah of canning, and gardening and sheep and spinning and cows…..and well you know the story, plus a full time job. With the house came the various array of good ole animals that you hate to uproot so they just stayed on and changed over to new landlords.

It was somewhere around 1985 that we lost Spike our wonderful black Lab inherited from previous owners. Losing Spike was a real heartbreaker and so we began a quest to bring in another animal to pour our love into. Leave it to Jerry to find the ad, "as seen on PM Magazine" about miniature horses; and of course we visualized truly little tiny miniature horses. I called and between my real estate schedule and Jerry's it was 10 pm when we arrived at Cedarbrook Farm to view our prospective "miniature horse". Out came Joker the loud pinto gelding that I wanted to take home and again leave it to Jerry to ask for a bred mare….so out came Gabby. You guessed it we purchased a bred mare. I remember standing by the road just waiting for delivery the following week….and waiting, and waiting. You would have thought we were having a baby….and finally Gabby came off the trailer. Oh how green we were, not even knowing how to feed, how much, or any of the normal horse type things but we were now proud owners of one miniature horse, or so I thought. I kept going back to Carol's to learn about horses but every time I went I would come home with those dog eyes and say, "Jerry, I found another" and he got to a point he didn't even fight it, we just called it our anniversary, our Xmas, our birthday…..because that made sense!!! Our first foal was born without problems in spite of ourselves and our lack of experience…..but when it came to breeding we soon learned when we brought home a virus from another barn that it was time to invest in a good stallion and keep the mares at home. So again with much luck, Ayer's Mini Red Questionmark was added to our ever growing herd. (See his fascinating story in the miniature horse historic archives and Joker, he went home with Joyce and Tommy of Lil Folks, who we soon would call our friends.)

In 1989 Jerry retired and I gave up a successful twelve-year brokerage in real estate so we could move our horses to the south for better weather. We wanted to spend quality time with our breeding program and promote our horses in the show ring. The milder climate allowed us a lower cost of living area to provide us with expansion for what else but, "more miniatures". (Notice how they now are running our lives?)

Jerry and I purchased a charming "Southern Plantation" home on over 255 acres and then built stables for our horses which included tack and living area, foaling stalls and medical room.

In 1990 I assisted in the start up of our area club, the Dixieland Miniature Horse Society and drafted their By-Laws then became their Secretary, Treasurer and Newsletter Editor, which I did for over two years.

In 1992 I left the club and started writing for the Miniature Horse Pony Journal doing area shows, auctions updates, farm news and historical articles. I still write for the Journal under the Area III of Southern Sunshine trying to promote the equine and the breeders.

We spent approximately six years in the show ring and produced a stallion who went three times top ten at the AMHA Nationals in 1991 as well as held the Register of Merit in Color and proven AMHA Champion title. In 1992 his son, Boo Who, went Reserve National yearling in 28" and under. We have placed our foals in local club futurities and won best-produced foal and many of the mares now here being bred also hold show credentials. However, Jerry and I determined to place our full efforts into our breeding and marketing which made it hard to do the showing end justice.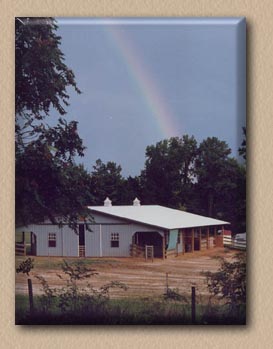 Our operation increased from the original 16 horses brought down from Connecticut to about 50 head maintaining eight to nine breeding stallions….I love stallions, doesn't everyone? We were at attendance on all foals, assisting in the delivery to ease the mare's work and also to imprint train our new foal. We did a good many outside breedings to Red or one of the other stallions and at the same time maintained a herd of over 100 head of commercial cattle and Texas Long Horn cows.

We are pleased to present good quality, color and breeding to future buyers, and are available to assist even after the sales. We price our horses reasonably and place them in serious breeding programs where they are loved. We provide history, background and color genetics on all our horses and provide guidance in breeding.

Over the last few years I have been contacted by some of our breeders to locate horses and so have also gotten into selling and locating horses for others, very natural to an ex-agent. I sold a herd of appys to Conn. and another little herd was sold for an elderly lady who could no longer maintain her horses and did not want them to go through an auction and split apart. I also sold the Tribble herd when he became very ill and unable to maintain his horses like he would have liked.

We have been instrumental in assisting other breeders to establish new operations not only with our horses but also in their breeding programs and they now too are producing quality little foals in the same lines and same manner as us…..quality with fair pricing!!!

We have not had to advertise in the past as our clients have been repeat customers who have also graciously referred clients to us and we have managed every year to sell out.

So in 1997 we ventured back into the show ring and taking five horses through Red Oak Farm we brought home four top tens. We placed in halter, conformation, driving and color which was no easy feat as the Nationals sported close to 900 horses with classes 26 to 52 strong that we were in. Those horses were bred here and are owned by people throughout the country now.

We are at present very involved in breeding, producing and color crossing the frame overos, the belly splashed and the sabino equine color patterns, and recently published an educational article based on the Lethal White Overo gene which must be present to produce the sought after frame overo pattern…be it minimal to maximum expression.

We gladly invite your inspection and visits to our farm by appointment and offer viewing of each of our stallions with their own little band of mares and foals. During the walk through I explain the breeding of each group and knowledge of the coloring. Our tour averages three hours and many of our buyers place deposits or ask for options on unborn foals by viewing the Dams and Sires. You will see some of the finest little frame overos , splashed and sabino horses here and we are proud to present them to you. You will see the foal's parents and "know" you have seen the backgrounds correctly. We DNA all of our frames and our AMHA stock as most all our herd is double registered with both AMHA and AMHR.

Our town offers many fine little shops, wonderful restaurants owned by Mennonites and a wonderful charming historic Inn for over niters set off of cobbled streets traveled by friendly people…and smiling faces. Below the Inn is a piano bar and monthly live theatre draws people from all over the area.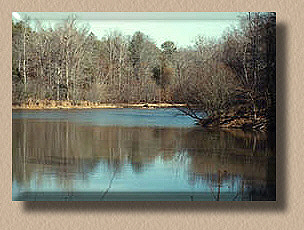 AS for Jerry….. Our ponds boast some of the largest farm pond bass and it is not uncommon to run into wild turkey, deer, or see tracks from wild boar. In essence we have a mini game preserve we handle alone and Jerry is in his sweet heaven. Meanwhile, I have just spent the last four months tackling this web site on a daily basis wondering whatever was I going to put in here….and well, this site put up just to keep up with the times has ended up like all my projects, "an intensive birth to a new baby"………..so now that you know a little bit about us please travel through our site that will be a masterpiece just beginning in its infancy…many more things to come stirring in my thoughts. I hope you keep coming back and that we will have shared with you some helpful information gained from over 15 years in Miniature Horses and by the way, no longer greener than grass.
Carolyn Miller 9 March 2001
All rights reserved and may not be reprinted without permission..