MEMORIAL TO
DR. ANN T. BOWLING

Dr. Ann Bowling suffered a fatal massive stroke on December 8, 2000 and in so doing the world has lost one of its foremost horse geneticists. Dr. Bowling was the Executive Associate Director of the Veterinary Genetics Lab at U.C. Davis and had been on the faculty since 1973. Her research was in molecular genetics; however, her interests were in parentage identification, coat color, genetic disease, gene mapping and cytogenetics. Dr. Ann Bowling made international news with her release of "The Genetics of the Horse" which she edited along with Anatoly Ruvinsky. Dr. Ann Bowling was supportive within the Miniature Horse industry and responsible for the discovery of the "Frame Overo" EDNRB gene site. Her family has asked for those who would like to remember her to make memorial contributions to the Ann T. Bowling Scholarship for Equine Genetics, an award given to DVM or post graduate students interested in pursuing a career in equine genetics. Donations may be sent to:

Ann T. Bowling Scholarship
Fund for Equine Genetics
Office of Development
School of Veterinary Medicine
One Shields Avenue
University of California
Davis, California 95616

Dr. Bowlings book may be reviewed and ordered at the reference library site linked on our right hand navigational bar here on this web. If you would like to read on her Lethal White Overo please go to our onsite Articles on line herewith.

*Please note Dr. Bowlings photo is courtesy of UC Davis School of Veterinary Medicine and copyrighted 2001 University of California Regents. UC Davis has approved this addition to our site and all rights are reserved and may not be duplicated.







Rainbow Bridge Memorials

Amos & Jerry We hope you are running in the woods bringing home treasures to another master.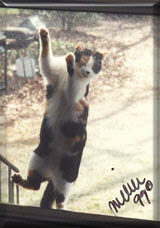 Boo
10/31/90 - 2/1/01
There you are on our back door screen looking for us. A gift from Van Double Dutch, you will be missed during foaling as you watched over our mares, as you followed us, came when called and gave both Jerry and I unconditional love. May you be in tall grass carrying home hunted treasures.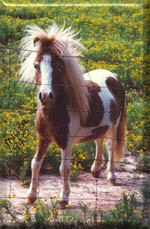 Miller's Mini Red Toyhorse General
/11/92 - 4/30/96
You were such a joy little man with such a kind temperament. I hope You have found a little herd just your size 28".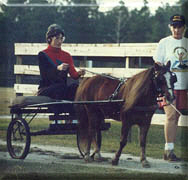 Merci T
Passed away 3/17/93
My friend may you be flying on clouds in your Heavenly chariot. Sadly missed taken too soon.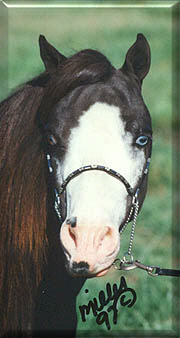 Ozirus
7/29/88 - 2000
You were quiet, commanding and never a complaint. How thankful I am that your last home during your undetected cancer was at the loving hands of Meg.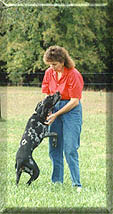 Sheba
The little Catahoula Leopard hound of our Mushroom Alert story. Your walks and frolics in the fields with Jerry are remembered and missed.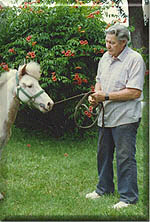 Vance
passed away 3/13/94
Upon viewing this web site Vance's son Bob said to his Mom Lois, "you know Mom I think that when God took Dad home the time was right for the overo market. Although Dad did all the footwork in the breeding he just couldn't sell them. God left it up to you Mom to market the business while the time was right and you have done well. I think Dad would be pleased with what you have done".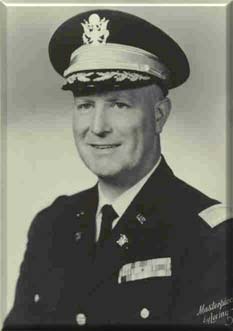 Lt. Col. Wallace B. Hobbs
10/16/14 - 10/26/1966
My father, honorary member of the Queens York Rangers, Ontario, Canada and a dedicated member of the military. You gave me my love of books and desire to look beyond the scope of now into the future.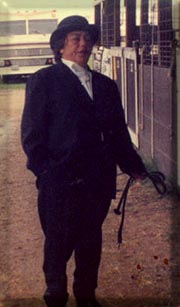 Entered this world on 4 October 1934 and passed through on 5 May 2002
Judy Schweitzer, my friend and a Miniature Horse foundation breeder and Paso Fino judge. Judy was an original member of the Heart of America Miniature Equine Club and responsible for bringing in some of the early foundation stock to Wisconsin. She was a wealth of knowledge and coached me through the AMHA Nationals onward to seventh position Amateur at Halter with a stallion in early 90's. She had the AMHA 92 Res. National 28" and under yearling stallion sired by my stallion Evan's Mike. Judy and her contagious enthusiasm for horses will be missed. Judy, may you be riding on the wings of Angels dear friend, and thank you for your support and friendship.
C.M.

A Tribute to Sample
"Gone but the Legend Lives"
August 1966 – October 2004
On October 2004 "Sample" was laid to rest at the Van Lo's Rainbow Ranch where he lived out a comfortable life for 38 years.
Sample was only a foal when Vance and Lois brought him home, and it was Vance's intuition that one day this small, loud colored frame overo colt would mark his place in "Equinedom". Vance said, "We will call him "Sample", as a sample of things to come and to look forward to." Such, is the legacy that Sample has left in his lineage and with the Myler friends and breeders that have carried his name and bloodlines within their programs.
Lois says, "that Vance so loved this little colt that he used his name also throughout the Van Lo lines, and with the opening of AMHR his daughters were able to introduce in to registration his genes and his much loved and sought after pattern. It is that same pattern that we see today being shown successfully at the National level producing Champions, and transferring into the International Market.
It was Vance who I first met via phone when I advertised for overo patterned horses. At the time I wanted to write about the patterns; this was also prior to the research released by Ann T. Bowling noting that the frame pattern must be dominant. Why? Because if it were recessive requiring two parents to contribute to the pattern, we now know that in that position the foal would be a non-viable lethal. And, so it was I first met Vance, and was given by him prior to his passing his notes on Sample.
After Vance Myler's passing it was Lois who picked up the "Sample" reins and many times Lois has said to me, "Carolyn, Sample introduced me to a new life and new friends. Sample was my lifeline and reason to go on living."
It was finally Lois, who was convinced that in order to expose the line to the world you had to sell and allow the line to leave the farm, something Vance had trouble with, letting go of the offspring. It was also the Myler family that made the Myler Bit a custom specialty bit known internationally through seminars, videos and books. How proud Vance would have been of not only "Sample", but his family too.
Special thanks goes out to all those friends and breeders who continue on with the "Sample" name here as well as internationally, and to all those who joined us in support of our long running "United Overo Ad".
For those who wish to read further on "Sample", the "Journal" has been a great documentary for our old lines and you can find further "Sample" history in the Area VI Pony Tracks written by correspondent then, Mrs. Louise Relph. The topic at the time was of"Sample", the Medicine Hat Pony and his likeness to the Spanish Barb horse known as "Sun". See Journal articles in July–Aug 1986, Sept–Oct 1986, May–June 1987, and Sept –Oct 1987. We have also compiled a large scrapbook of his life in pictures and education with memories of Vance at the website: htttp://www.millersequine.com Please stop by and visit and watch for upcoming group advertising, as well as our community sign in board also at the millersequine web where you can get answers to your questions and perhaps swap information.
Why have I written about this in Area III? I have written about "Sample" as he has been our lifeline also. His blood is infused in our lines and his colors now fly in our fields. This has been part of my Area III story.
It is now so aptly timed that I have in my own life taken off in another direction, with books in progress, do find it fitting to step aside as Area III correspondent. After twelve years of writing for the Journal it is with pride that I step aside passing the torch of opportunity to infuse new blood, ideas and energy into this fast growing Area III column.
Thank you for allowing me to volunteer my service to you and writing for all these years. I have enjoyed this and been educated along the way. God Bless and Happy New Year !








Mrs. Ruth Anna Hewitt Hobbs, 83, a long-term resident of Meadow Drive and retired assistant to the Assessor in Waterford died at Beechwood Rehab. & Nursing Center on July 14th of stroke related problems.

Mrs. Hobbs was born at Home Memorial Hospital, now L & M, on June 3, 1921 to Albert Jefferson Hewitt and Olivia Engline Hewitt. She was the granddaughter of Alden Wheaton Hewitt and Rachel Baldwin Avery with direct lineage back to the Mayflower.

Mrs. Hobbs graduated from Williams Memorial Institute and was a charter graduate of New London Junior College now known as Mitchell College. She went on to work at Fort H.G. Wright in New York for the Post Engineer but returning home to assist in the Coast Guard Marine Inspectors Office and then on to become a Personnel Director at the Fort Trumbull Branch of the University of Conn.

Mrs. Hobbs met and married the late, Lt. Col. Wallace B. Hobbs, through the Second Congregational Church of New London where both Wallace and Olivia, her mother were choir members.

Ruth followed her husband with his career to Fort Knox, Kentucky where she worked in the Engineering and Financing division.

After a tour of duty in Germany the Hobbs family returned and Ruth continued working for the office of Purchasing and Contracting at Fort Niagara, Youngstown, New York until the retirement of her husband.

Ruth and Wallace brought their family back to the New London Waterford area where they purchased 2 Meadow Drive in 1963. Ruth was employed by the Town of Waterford where she assisted the late Mr. George Egeland of the Waterford Assessor's Office until her retirement twenty years later on May 11, 1984.

Mrs. Hobbs is survived by her daughter Carolyn Hobbs Miller, and her husband, Gerald Luben Miller both of Aiken, S.C. as well as grand-daughter, Jill Miller Bonifas of Greenbay, Wisc. Son, Richard Wallace Hobbs and his wife Joy Hobbs of Torrington, Wyoming also survive Mrs. Hobbs.

Friends and family are invited to call at the Fulton-Theroux Funeral Home on Ocean Ave. from 1-2 on Tuesday, July 20th. The Pastor Douglas S. Meader of Lakes Pond Baptist Church, will officiate at the memorial service following the calling hours. Burial will be directly afterwards at the Cedar Grove Cemetery, New London, Conn.

We wish to express our deep gratitude to all family, neighbors and loyal friends who have assisted us through their acts of kindness including the staff of Beechwood who cared for Ruth in a gracious and loving manner. To the Congregation of Lakes Pond Baptist Church you have made our road a lot easier to travel and the distance not quite so far.

May God be with you and walk by your side in Love, Light and Peace. WE are most grateful.

Carolyn and Richard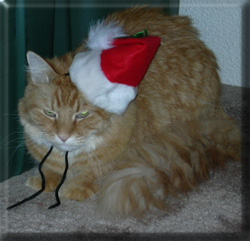 August 14,1998 to December 28,2006
Max,our loving buddy. Gone from this world, but forever to live in our hearts. He was a shy little fellow, but gentle and sweet. He came to me at age 2, and I was blessed to have him for the next 6 years. We will miss your quiet meows, your gentle gazes, your tenacious "kneading" at the foot of the recliner. We will miss you shadowing our every move, and we will miss you staring us down for table scraps. You blessed our lives with your unconditional love, and for that I will always be grateful. Go and run free, where there is no sickness, no pain, and no fear. Know that we love you still, and that someday we will be together again. We love you, Max!!

Choose a page from the drop down menu and press go

Disclaimer: (Content on this site subject to errors and or omissions.)
Copyright © 2001- Photos & Content Miller's Miniature Horses
Graphics Sam Silverhawk, ALL RIGHTS RESERVED.
Hosted by Silverhawk's Creations