DYSTOCIA RELATED TO FEAR
Miniature Horse World Feature Article August/September 1991 Vol.7, No. 4
By: Carolyn Miller
I have found that when someone starts miniatures in a new area, it is the breeder/owner who is relied upon for medical updates and dosages. Much we learn from our own Miniature Horse World and much among ourselves as we compare notes through trial and error. We have learned to become detectives and to assist our vets on our little horses. Being no exception to this rule, I read medical books, pedigrees, and history on our horses like the ordinary person reads a novel. I am always on the phone comparing notes with breeders. Not being a vet however, I call upon other breeders and any vet that may read this to see if what I have stumbled onto just isn't a strong possibility for why we lose some of our foals and have problems with some of our mares not letting down their milk.

First a little background history: Velvet was foaled in Florida and was sent to Connecticut where she lived by herself at a standard horse farm for approximately the first year of her life. She had no socializing with other horses, and the owner who loved her decided to sell her to a family that would pay attention to her. Along came a family with a little boy, and home she went to her new little barn and fencing of approximately 50' x 50'. Being New to horses, and as Velvet was high-spirited, the family was afraid of her. They soon placed an ad, and off we went with the end result being that Velvet joined our home at two years of age. We soon found Velvet to be a mare that wanted to trust but she appeared stressed, always presenting her rear to us with pinned ears. We placed her in an adjacent field to our mares so she could get acquainted, but somehow after her life of isolation she just never learned to socialize; however, she did become a "people" horse after much care and handling. When joined with the herd, Velvet became very submissive, and the other animals, even the smallest 29-inch mare, could intimidate her. Velvet is pastured with the mares but we inevitably always see her off by herself somewhere in the field.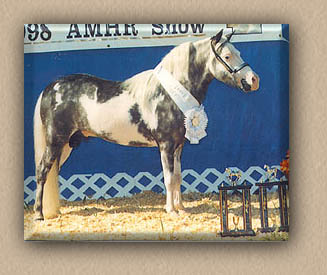 Van Lo's Overo Kid "Calico" bred to Velvet
produced Chaps the blue eyed
tested positive frame overo carrier.
Calico is double registered A & R and the
'99 Nat'l. A div. Color Champion, 2000 PTHA
World Res. Champion Color A Division

We bred Velvet as a three year old, and she settled immediately. In doing research, I had found out from the original owner that Velvet's dam had always had a healthy foal at ten months. At 302 days gestation, at 9:00 A.M. after feeding, Velvet walked up to the barn where Jerry was and went into labor. After thirty minutes or so of labor we called the vet. He was too far away to get to the farm but guided us over the phone through the delivery. Unfortunately, Velvet decided to quit having contractions as we tried to work with her, and the foal that had legs and nose out was crushed in our hands. The vet had to come and mechanically pull the foal as we prayed and as Velvet looked on at us for understanding as to what was happening to her. We were very fortunate as Velvet had no internal damage and later in the year was bred and settled again.

On February 22, 1991, at 305 days gestation, Jerry looked out the window and saw what he thought was a dog that had gotten into our fields. Not knowing how this could have occurred, he grabbed a gun and flew down to find a little gray colt running with the mares, screaming for his milk, and seeing milk factories everywhere. After a quick survey of the situation, he realized it was Velvet who had had this foal as she stood off by herself in the field among the mares, probably in fear of her colt and not aggressive enough to take charge. We quickly rushed the two of them into their own foaling area where they could become acquaint, but to our dismay Velvet had no milk. As we all know that colostrum is "liquid gold", I had placed two baby bottles in the freezer from before, so off I scurried to thaw colostrums. I placed the bottle in warm water and within the hour had the little Bullet drinking. Within the next six hours, with Bullet's persistence at Velvet, we had milk. An IGG test later confirmed that he had received his passive transfer.

In reading BREEDING MANGEMENT AND FOAL DEVELOPMENT along with the MERCKE MANUAL, I found that the following notations on hormones were interesting, in particular OXYTOCIN & ADRENALIN. Oxytocin is carried to the bloodstream to the udder where it causes mile to let down, and I also found that it causes contractions.

Adrenalin, which is the horse's fear and flight hormone, when released inhibits the effects of oxytocin. IS IT POSSIBLE THAT VELVET'S CONTRACTIONS AND HER MILK DELAY COULD BE ATTRIBUTED TO THE FEAR SHE HAD FELT WITH HER FIRST FOALING EXPERIENCE AND AGAIN FEAR THE SECOND TIME WITH THE MARES AROUND HER? Next year she will have access to a field all her own with freedom to come and go at will and perhaps the third year will be a winner…not only a safe delivery but milk right from the start.

In visiting other farms and relaying this theory, I came a crossed two who related similar instances. I feel there is a link and would welcome any comments relating to this.

Crackerbox Farms Bay Velvet
and her son Miller's
Calico's Blue Eyed Chaps

This article appeared as the feature article for the Miniature Horse World August/September 1991 Vol.7, No. 4. All rights are reserved and no parts may be reprinted without permission from the writer. It is subject to error and or omissions.