We first attended the VIP reception where we socialized with Monty and Pat Roberts and their son Marty on a question and answer period. Monty signed his books, audios and merchandise while his wife, Pat, displayed and answered questions about her distinguished sculpture pieces. Pat's "Moment of Join Up" showing her husband's communication with the horse is displayed in the private collection of Her Majesty, Queen Elizabeth II.

We indulged in a light buffet and drinks provided by the Therapeutic-riding program, "Saddle Up", where all children are equal in the saddle. The proceeds from the VIP event benefited this program which gives challenged children the opportunity to grow through fun therapy with horses.

After the reception we settled into front row seating to view first hand Monty's "Starting of two green horses", straight from the field in his "Join-Up" method. The process of join up, which averages less than half an hour per horse, teaches unbroken horses to accept saddle, bridle and rider. Once again, our three-hour demonstration with intermission was a success story placing a rider on both horses backs non-violently.

With front row seats at the working arena, we could smell the dirt as it was kicked up and see and feel every action in the ring.

The arena was filled with what appeared to be close to 3000 people judging by our group of 250 in the VIP section.

During both demos Monty, many times breathlessly, spoke to the viewing gallery providing background information on himself, his actions at the moment and, in general, keeping us glued to his every word.

Roberts is against alteration of any kind with the horse, and feels that the hands that hold the equipment are the most important part of structure.

For 8,000 years people and horses have come together with humans saying, "do what I say or I'll hurt you". Monty's contention is the horse, being a flight animal, doesn't work with this method, and there must be a better way. Monty watched his father using strong, vicious techniques. He decided the pendulum had to swing the other way as it had gone too far with his father's type of training methods. Monty states, "It just gets a horse's world right side up if they can trust a human being".

The join-up method has communication whereby eyes on eyes means go away. Shoulders square and open fingers mean go away. The process and manner of working the horses predicts undeniably certain actions out of the horse Monty sardonically calls just another fluke. There is no doubt that he will have any horse following him and almost begging for a saddle and rider on their back.

One of his sponsors is Ford, providing Monty and his ground crew with the Ford Duel Diesel. His newest sponsor is Sundowner. Watch for the Monty Roberts Signature series to be safer and more compatible in the shipping of horses.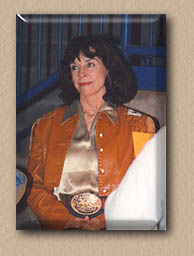 There were conversations with the audience, and at one interval, Pat Roberts, discussed her sculpting which she does in her kitchen at home. There was an instance where she had been working on the famous "join-up" piece now in the Queen's collection. Pat said she would retire for the evening and somehow by morning note that the figure of Monty had grown broader shoulder and trimmed down in the tummy. Of course the culprit was the elf himself, and Pat was relentless with her persistence in correcting the figure each time.

Monty's goal is to school new trainers in the non-violent techniques of his and to eliminate old traditional methods of violence. To this end it was noted that PBS has a documentary on the Mustang and to the controversial Bureau of Land Management adoption program across the country. The BLM is charged with a big task of finding homes and keeping numbers of the mustangs down. Roberts feels one of the main problems with the program is finding the appropriate people to break the mustang; at present he feels the program is fractional. The program does use prisoners in the prison system to break some horses while others go directly to green buyers without handling. Monty would like to offer his services to educate and train the prisoners in his method. He feels this will allow for more adoptions gaining the highest prices and also reap the rewards of showing prisoners there is a non-violent way.

Monty has two schools offering his training at present with more coming on-line. The English West Oxfordshire College offers preliminary teachings, and his California based school offers intermediary and advanced instruction to professionals.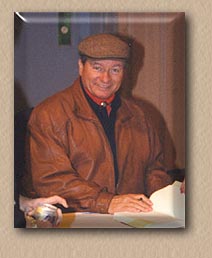 His next book will feature a dictionary of horse text containing between 100 and 150 gestures. There will be how-tos for not only adults but also for children. He will be following up with demonstrations after this tour on "Horses that have problems with People".

May of '98 will have kicked off his Canadian tour. Random House has a U.S. Cross Country promotional tour lined up for Monty and his family and ground crew. They will "join-up" 72 cities in 1998.

For those who cannot attend a demonstration you may call 1-888-U2-Monty for books, audios and a schedule of events. For those wishing information on-line reach him at: www.MontyRoberts.com.

In the words of Monty Roberts, " My goal is to leave the world a better place then I found it for horses and people". Pat Roberts Sculpture can be reached at: Pat@MontyRoberts.com home based in Solvang, Calif.

This article was first published in the June 1998 American Miniature Horse Journal, and is subject to error and or omissions. All rights are reserved and no part may be reproduced without prior permission. The Monty and Pat Roberts photos are by Miller photography, and the "touch" photo is by Christopher Dydyk Photo. Pictures are not to be reproduced without permission.