Someone You Should Know
Robert K. & Dorothy J. Stout
"STOUT'S MINIATURE'S"

BY: Carolyn Miller
Strangers driving past Stout's Miniature Horse Farm in the heart of Hoosier-land are most apt to do a double take. Perhaps they might slow down or suddenly slam on the brakes after catching sight of tiny horses, lamas and alpacas roving in the lush pasturelands located thirty-five miles southeast of Indianapolis, Indiana.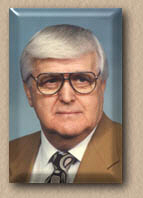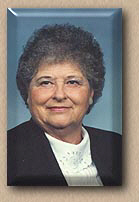 Robert and Dorothy Stout got into Miniatures due their mutual love of horses and have more than 120 of these lovely little animals. They brought to the business backgrounds in farming and teaching, which were amply utilized.

The Stout's are one of the earliest, large-scale Miniature breeders in the United States. Thirty-eight years ago the couple started this fascinating enterprise as a hobby by buying out a herd of Miniatures from breeder Clarence "Bud" Branaman in southern Indiana. At the time, Mr. Branaman was one of the largest most experienced breeders of Miniatures in the Midwest. As a result of that initial purchase, much of today's outstanding show breeding stock can be traced back to the Stout Farm.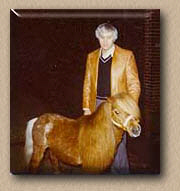 Stout's Mr. Pride with Bob in 1979 full brother to Red Man an Ramundo

Stout's Mister Pride was the Stout's foundation sire for many years passing away at 39.5 years of age at the farm. The Stouts purchased Mister Pride's dam, "Limpy" (sorrel) from the Branaman herd. Branaman's Peppermint was the sire of Mister Pride and the original Red Man who was later owned by Rex Ayers. Peppermint was a loud red roan paint. Red Man, also known as Freeman's Red Man, was a deep chocolate Chestnut. Another full brother to the renowned Red Man and Mister Pride was the great "Ramundo" who was raised on the Stout Farm and sold in 1967 to Rayford Ely, Oakland, California, who was the president and founder of the International Miniature Horse Registry. Stout's Grandma was also a Branaman purchase.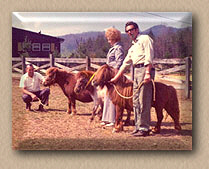 McCoy's Red Man, aka Freeman's Red Man, aka Ayer's Mini Red Man with Rex Ayer's in foreground and J.C. Williams of Dell Tera in rear. Red Man - full brother to Stout's Mr. Pride and Ramundo.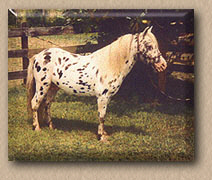 Stout's Freckle Feather, owned by Heritage FarmsOther well-known herd sires bred and raised on the Stout's farm were: Dell Tera's Moonman acquired by J.C. Williams as a yearling and later transferred to Vern Brewer:; Stout's Tom Thumb, 1983 National Champion and National Reserve Grand Champion: Stout's White Cloud, AMHR Sr. National Champion now at the "Northern Lites" Miniatures in Minnesota: also, the loud leopard, Stout's Freckle Feather at Heritage Training Center in South Carolina; Stout's Moonshine, Iowa's Little Kernel, Stout's Sir George, Stout's Kit Kat and Little King's Clyde, purchased by the Eberth's as a baby. Many have gone on to their great reward in the sky, but their legacy will always remain in the world of Miniature Horses.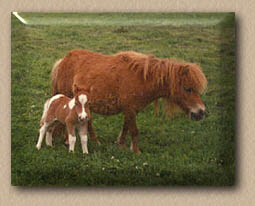 The Stout's are firm believers that, with proper care regular worming, hoof trimming and proper nutrition, Miniatures can live to produce as well as enjoy life to a ripe old age. At present the Stout's have Peanut, 34 years old and in foal; Stout's Weenie Sue, 33 years old and a consistent foaler, producing the past 27 years and in foal for 1998; Stout's Teenie Lou, 33 years old and bred for 1998 and a consistent producer.

Most recently, articles appeared on Stout's Mona Lisa, a very important foundation mare that was purchased by Possum Run Farm of Orient, Ohio. Bob and Eileen Marx, owners, responded immediately to my request for information on Mona and sent a picture in of Mona with her last foal. Bob Marx wrote the following:
"I appreciate the opportunity to provide material for your article on the Stouts. Bob and Dorothy have done so much for Miniature Horses and certainly deserve the recognition. Enclosed are copies of Mona's papers, and those of her last two offspring, "Scooter" and "Sissy" as Well as a copy of Scooter's full bloodline. As you can see, Mona was his mother and his great- Grandmother. Mona passed away 11/23/97 at the ripe old age of 31. She is buried under the pasture where she spent her last years, and in which her son "Scooter", his mares and their offspring now Graze." (Photo enclosed is Mona at age 26 with Sissy.)


Stout's Mona Lisa here at age 26 with Sissy

"We also owned Stout's Little Sheba, and Fishers Lady Sorrel, both passing away at age 28. Mona Lisa, like Moon Man, Moonshine, Little Kings Clyde and Moonman Junior, were all Sired by the famous Stout's Mister Pride all bred by Stouts."
According to Mrs. Stout, it is common to see several generations at the Stout Farm. She further noted that the fulfillment and satisfaction of raising and caring for these endearing, unique little animals have given them years of happiness. They have tackled and succeeded in breeding for the smaller size while maintaining excellent conformation and quality.

According to Mrs. Stout "Bud" Branaman herd was disbursed in Brazil, Indiana, at the Pell Sale. Mr. Branaman himself was a Purdue (University) graduate, and to my understanding, was quite an eccentric. He had a herd of between 250 to 500 and was in the hobby approximately 12 to 15 years prior to the Stouts. He sold to Smith McCoy, Billy Howell (Moto) and many of the founding breeders, as we know them today.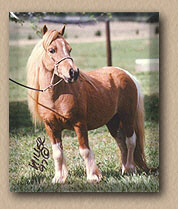 I met Mrs. Dorothy Stout through a lead that Mark Verhaeghe (Van't Huttenest) gave me while inquiring about my stallion Ayers Mini Red Questionmark, who was at one time owned by Mark Verhaeghe. Mark felt sure that the Red Man background led back to Stouts and there is where my journey into pedigrees started. Mrs. Stout was absolutely gracious with her information to this newcomer. Mrs. Stout put me on the path of history back in the 80's that continue to this day. It is absolutely fitting to honor them and enlighten the breeders of today with their story.

Much thanks to Bob and Eileen Marx and Frank McCartha for supplying and responding immediately to the need for pictures and information on Stout's Miniature breeding stock.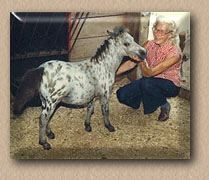 Stout's Easy to Spot with early founation breeder Zola Johnston

This story was printed in the Miniature Horse Journal on August 1998 all rights are reserved and no part may be reproduced without prior permission from Carolyn Miller.