Miller's Miniature Horses Presents...



AND AREA III INFO

Please click on this link to read area III Information, tips and tricks,Annoucements, Reminders, Dates & News. Clicking on this link will open a new browser. You may go through and read the posts and simply click click on the x on that browser to get rid of it, this page will still be in the background. You may also click on the Miller's Miniature Horse link to be taken to the beginning of the site. If you have something to post, please use the form below.

If you have any Area III news event, a tip or trick, a new foal, or something you want to share with the miniature horse world please use the form below.

All boxes must be filled in for this to be sent.
Miller's Miniature Horses
Jerry & Carolyn Miller
1822 Monterey Road
Abbeville, SC 29620
Phone:(864)446-3452
Fax:(864)446-3452

Choose a page from the drop down menu and press go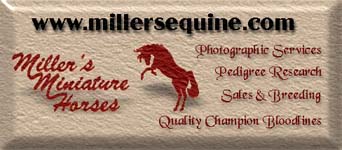 Photos and Content Copyright © 2001-2002 Miller's Miniature Horses
Web design by Rain Silverhawk

Graphics Copyright © 2000-2002 Sam Silverhawk. All Rights Reserved
Disclaimer: (Content on this site subject to errors and or omissions.)