Please click on the navigation bar on the right to view our site

Millers Miniature Horses Presents...
NEW FOALS We will add to this page as the new foals come along so check back.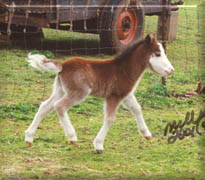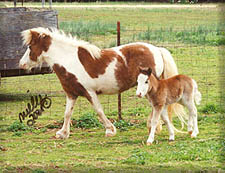 Miller's Red's Shoshoni Sunrise and her new filly foal born March 11th 11:30pm and 21" tall. We have posted several pictures here of this exceptional filly as she appears to be red with apron face and one dark leg..notice the dark hoof? She has a couple of spots on her side and white underbelly. Her dam is a sabino/tobiano combination with lacing on her back. Her sire is a Black Frame and we will post pictures later of this filly shed out.....she will be bay or black. Notice her black mane? One of the dark points you would find on a bay but genetically would not find on a sorrel or chestnut. You wont find the leg points due to the socks. This filly will be tested for the EDNRB marker found in frame overo producing horses. She may be sabino sabino/frame or frame. I am also looking for a great name for this little filly if anyone has any ideas please drop me a line here on site or post it to the message board here on site.

6/5/01 Congratulations! to Pam Johnson who received a cash award for naming our new filly out of Shoshonee, "Miller's Dakota Moon"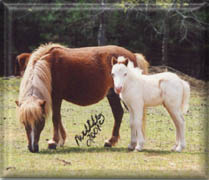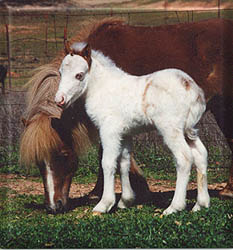 I was born 3:00 a.m. 3/25/01 and my Mom is Millers Mystic Charm aka "Misty". Misty is also the Dam to Shoni who had the first little filly. I'm looking for a home as a potential herd sire and I will probably be either sabino or sabino and frame. The Miller's will ofcourse have me tested for the marker to see if I can produce frame overos...they seem to think I can. I am the sacred Medicine Hat to the extreme with just the cap and some coloring down my back, around my tail, on my chest and flanks...and yes, I do have blue eyes. I am priced very reasonable please call or email the Miller's at: 864-446-3452 or millersequine@hotmail.com

6/08/01 Congratulations to Winter Winds Farm on their purchase of, "Miller's Snow Shadow" our little War Bonnett colt who has tested positive for the gene to produce frame overos.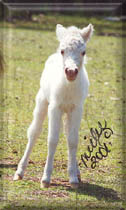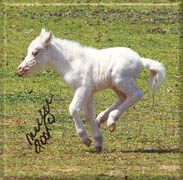 Welcome into the world Van Lo Cupie's filly foal "Miller's White Feather" born on April 1st at 2 a.m. When we first saw little Feather we just knew we had a white lethal foal, the product of two parents both carrying the Frame/Sabino pattern gene. We did see her pass meconium, the first excretion of the foals digestive tract within the normal allotted timeframe. However, we have never had a foal completely white and breeding with the overo pattern genes Feather was a new experience for us. We must have kept watch on her for 36 hours straight waiting to see the signs of distress which never came….as you can see here with her tearing up the pasture at "36" hours old when we felt we were out of the woods…. This girl has a head that just doesn't quit and has been added back into our program. We feel gifted to have had such beautiful fillies and have placed several pictures of Feather here as a visual learning experience. She is found to have just a touch of color on one ear, and sapphire blue eyes, just enough pigment….We feel she will test positive for the EDNRB gene to produce frames herself, and also that her coloring will break open the patterning genes. Feather is full sister to "Sabrina".

6/08/01 Just as an educational footnote we have since heard of two more of these white foals being born to Pat and Gerry Meier that also did not turn out to be white lethals. The foals did have the dark eyes and one had the tinge of color on the ears. Also, Melanie Pittman of the big overos mailed me and said she has a couple also. In summary, don't panic at first sight....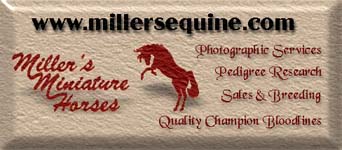 Disclaimer: (Content on this site subject to errors and or omissions.)