Indian art from quiversets to feathers from beads to weapontry.



Dream Catcher Feather Spirit Jewelry Native American cards, poetry indian smudge ceremony decoration.



Necklaces, bracelets, earrings, agate, stone jewelry, dreamcatchers, clowns, clown dolls



Coastal Virginia's Assateague Indians.



Celestial Spirit
8 Gallery Exhibits of Rare & Collectible Jewelry






Eagle Nest Collectibles Vintage Toys and Books



Native American Indian Art



Native American Indian Dolls Jewelry and Books



Coover Team
Conneticut Real Estate






Visit The Rare Godber Burnham Turquoise Mine



Cultural Bridges
For All Nations Angel Food Ministry



Stone Age Trading Company
Art of Flintknapping



Teresa Blake
Blake Show Horses



Lea & Tony Miller
Windy Willows Ranch



John & Sandy Jones
RNB Ranch



HORSE FORUMS





The Equestrian Meeting Place









Lilbeginnings Mini Horse Forum



Visit The Colorful Miniature Horse Egroup & Free Horse & Tack Classifieds Board at:




Please visit
our Pinto Miniature Horse Board



REGISTRIES

Int'l. Spotted Horse Registry
& great horse links





American Shetland Pony Club
and American Miniature Horse Registry





American Miniature Horse Association




MUSIC

Native American Flute Music
Charles and Vicky Littleleaf

WEB DESIGNERS

Webdesign and hosting of this site by
Silverhawk designs



LC Basic Webpage Design

DIRECTORIES AND SEARCH ENGINES


OTHER INTERESTING PLACES


Onyx and other gems buying and caring tips.

Choose a page from the drop down menu and press go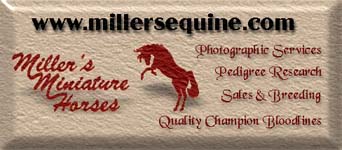 Photos and Content Copyright © 2001 Miller's Miniature Horses
Web design by Rain Silverhawk

Graphics Copyright © 2002 Sam Silverhawk. All Rights Reserved
Animated Horse compliments of


Disclaimer: (Content on this site subject to errors and or omissions.)