*This is the second part in a series of two articles written about tapeworms. The first part appeared in the American Miniature Horse Journal Area III Southern Sunshine Column on June 1994 as written by the editor and owner of Boo, Carolyn Miller. The following story was the documentation of the surgery and pictures taken during the surgery for purposes of teaching the UGA students. This was the first equine to go through this surgery and survive, at UGA. No parts of this article may be reproduced without prior consent from Carolyn Miller. Warning, the pictures are graphic as they were taken for Veterinary Students.
Our referring Vet was Dr. Joy Morris of Happistance Veterinary in Townville, S.C. and the Lead Professor to the staff in attendance was Dr. Andrew Parks, Assoc. Professor. The Large Animal Intern was Lynne Dennis, DVM and the on staff photographer was Dr. Michael Ball.
June 27, 1994
RE: case #537-992
This letter is in reference to "Boo", an eleven year old Miniature horse mare, owned by Carolyn Miller who presented to the University of Georgia on April 22, 1994 with a 24 hour history of severe abdominal pain. Upon presentation the mare was thought to be 60 days pregnant. She also had a history of 3 to 4 months of weight loss and lethargy.
Upon presentation to the UGA, Boo was found to be alert and very painful. She immediately threw herself down on the ground and rolled once she was off the trailer and 50mg of intravenous xylazin was necessary for physical exam. A catheter was placed in the right jugular vein. Her temperature was 101.2 and respiratory rate was normal at this time. Boo had a grade III/VI mitral regurgitation on cardiac auscultation. Mucous membranes were pale and pink with a toxic line, slightly moist and had a capillary refill time of two seconds. She had decreased borborygmal sounds in all four quadrants. There was no obvious abdominal distention present. A nasogastric tube was passed and no gastric reflux was obtained.
Boo was started on acetated Ringer's at 1 liter/hour intravenously. A rectal exam revealed a full bladder, a fairly empty abdomen with a tight band palpable and a possibly distended colon cranial to the cecum. No small intestinal distention was noted and pelvic flexure was not palpable. Feces were soft and sandy. The abdominal tap was an enterocentesis, which showed a fair amount of sand. The mare remained continuously painful throughout the exam and was treated with 10mg of xylazine intravenously on four separate occasions and 4mg of butorphanol intravenously at two different occasions.
An abdominal radiograph showed a possible feed distended colon with very minimal amount of sand and moderate amount of gas accumulated in the proximal intestine. Due to continued pain unresponsive to analgesic therapy, the mare was prepared for surgery. Clinicopathologic data showed an inflammatory leukogram with 18 percent bands, a hypoproteinemia of 5.3 g/dl, hypoalbuminemia of 2.5 g/dl, hypocalcemia, hypokalemia, hypochloremia, and a white blood cell count of 7.2. Due to these abnormalities, we were worried about impending colitis. Calcium and potassium chloride were supplemented in intravenous fluids.
The mare was given preoperative antibiotics and flunixin meglumine. Abdominal exploration revealed a moderate amount of feed in the colon with the dorsal and ventral colon in the normal positions. The small colon was followed and palpated normally. No cecum was isolated. A tight band was felt at the area of the cecocolic junction. This was followed and revealed a cecocolic intussucception. The apex of the cecum could be palpated within the right ventral colon. An approximately 30 percent of the cecal base was still exterior and appeared healthy. The correction of the cecocolic intussusception included opening the right ventral colon and resecting two thirds of the cecum. The cecum appeared very black and necrotic with a large number of tapeworms within the cecum. This may have initiated the cecocolic intussusception. The cecum was resected and over sewn and then replaced into its normal position. No obvious leakage of feed material was noted. Closure and recovery were routine.
Postoperatively, Boo was treated with potassium penicillin at 22,000 IU/kg IV q 6 hours, gentocin at 2.2 mg/kg IV q 8 hours, and metronidazole at 20mg/kg orally every 6 hours. In addition, flunixin meglumine and acetated Ringer's solution were initiated IV. Due to hypoalbuminemia and severe endotoxemia, Boo was treated with 250ml of Salmonella antisera once and intravenous DMSO at 1mg/kg IV q 8 hours. Boo passed a very small amount of feces the day after surgery. She remained fairly comfortable throughout the day and was interested in some alfalfa flakes. Boo remained on postoperative antibiotics for four days after surgery. During this time she began eating normally and passing normal feces. Her attitude remained good and she showed no signs of abdominal pain.
She was discharged on April 30, 1994. At this time she was eating a normal amount of alfalfa hay and horse chow pellets and passing normal feces. We did not see any signs of incisional complications. Discharge instructions included four weeks of stall rest with hand grazing, followed by four weeks of small paddock turnout and then four weeks of pasture turnout. After this time Boo could be returned to a normal amount of exercise. We are not sure whether Boo will retain her fetus after the stress of her colic surgery. We believe that Boo's 3 to 4 months of lethargy and weight loss was probably due to a chronic cecocolic intussescepted to the point of vascular compromise at the time of Boo's initial colic. I have talked to the Millers recently since Boo's discharge and she seems to be doing very well. She has gained weight and her attitude is much improved.
We would like to thank you very much for this very interesting referral. We appreciate the Miller's care and concern for Boo's welfare. If you have any questions or concerns about this case, please feel free to give me a call at any time.
*This letter was submitted to the referring vet, Dr. Joy Morris and signed by Dr. Lynne Dennis, DVM and Dr. Andrew Parks, MA, Vet MB, MRCVS, Assoc. Professor.
The following are the pictures taken by staff photographer Dr. Michael Ball and may not be reproduced without prior consent.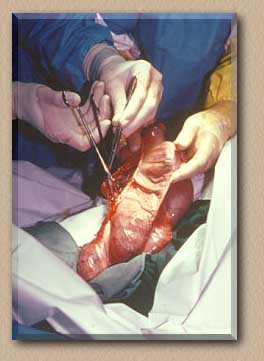 Opening side of intestine to access the inverted cecum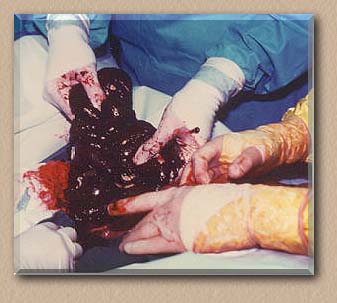 Part of the cecum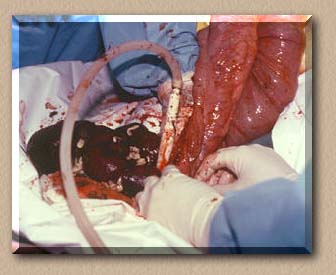 Surgery just prior to cecum removal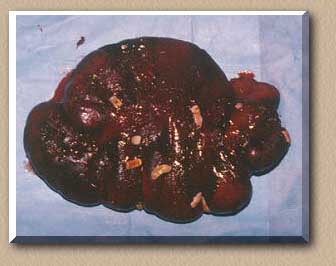 The cecum after removal containing the Tapeworms. Tapeworms tend to build up in the cecum according to Dr. Andrew Parks.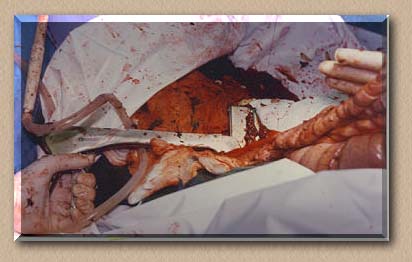 The platinum stapling of the cecum after removal of almost 75% of organ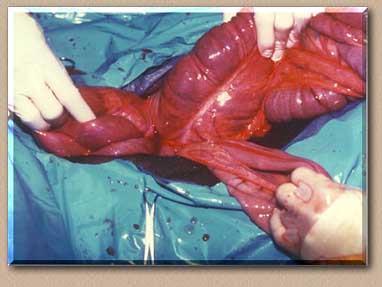 The relayering and returning of intestines back into abdominal cavity
This article is subject to error and or omissions and no part may be reproduced without prior consent.
To go back to the first page of this article, Please click on the red horse to view them.