The Consequences of TAPE WORMS Part I
First published in the Miniature Horse Journal in the Southern Sunshine Column Area III June 1994
Written By: Carolyn Miller

*The miracle to this story is that most horses are put down prior to getting to surgery due to the intolerable pain of this complication. This is the story by this editor and the second part is the actual documentation of the surgery in text and pictures as done by the University of Georgia Teaching School. They documented this surgery as the first ever with a horse surviving the surgery. Their picture and text documentation is now utilized for the training of their new veterinary students and is found here in Part II…pictures are graphic.

Mini Vista's Peek a Boo
Mini Vista's Peek-a-Boo shown here with handler Judy Schweitzer formerly of Wisconsin, now in Browns Valley, Calif. Judy was one of the first to bring Minis into Wisconsin and was a Paso Judge. She was a long standing member of the Mid West Horse Club and is the owner of Paradise's Boo Who, the 1992 Reserve National Yearling AMHA colt by Mini Vista's Peek-a-Boo, sired by Miller's stallion Evan's Mike.
"Boo", as she is lovingly called here was caught at 10:30 pm in a violent colic while I was attending to the foal watch in the barn on April 20th..As Jerry and I have equipped ourselves with a medical supply house here due to the fact that the closest vet for emergency is over and hour and a half away we immediately kicked in together treating her for potential gas colic. It did not seem likely to be worms as we are faithful in our worming program as well as the other areas we mini people attend to ie. shots, farrier, grooming etc.
By 1:00 am we knew we were in trouble as in eight years we had never seen so violent a colic, with Boo being held up by two adults, and even with Banamine and oiling she was strong enough to thrash her whole body to the ground violently. A three hour round trip to Dr. Joy Morris, "our savior of animals" and teacher for Clemson University brought Boo back home only to find a gradual progression back to the thrashing keeping Jerry and I going with her till 8 am when finally back to Joy then onto the University of Georgia Vet School. I stayed home to care for the normal routine while I waited anticipating the worst that Boo would not make it.
By 1 pm I called the University at which point they reached my husband who called me from the observation window of surgery. Giving Jerry full support in any decision, he decided to opt for surgery in hopes of survival and perhaps some knowledge we might otherwise not have known. With all the X-ray and exams the docs could not locate an obstruction, but knew from the pain that entry would show some sort of major problem.
Jerry watched as nine of the top staff doctors, the head anesthesiologist, also staff photographer and vet students, opened Boo from center of front legs to the back front of her udder. What was found was an inverted cecum obstructing the anal cavity most likely pre-disposed by "tape" worm; this on a mare that had come back fecal clean in several fecal samples.
Jerry was informed had this been a large horse the recommendation would have been euthanasia, however, with our little minis the vets are always surprised at their hard resilience and high survival capacity. Jerry watched as they cut and threw away three quarters of Boo's cecum, while one doc kept all her insides, now outside, moist with sterile solution. Prior to suturing and clamping, Jerry stated the docs replaced and layered the intestines back into her body cavity. Boo was given a 40% survival chance then went on to intensive care to slowly reintroduce her to food and hope that manure would be some indication that all parts were working correctly.
Jerry and I both did the over four hour round trip during the week of recuperation to take Boo out, groom her, braid her and keep her spirits up. She totally fooled her staff caretakers as every time they came by she whinnied and they responded with a handful of grain or alfalfa… They thought she was friendly and we know she was a food hound who had trained the staff exactly as she had trained her previous owners.

It was no surprise to us to see her caretakers get misty eyed as she left high stepping although totally shaved in the belly area, looking a little odd. Boo is home now under house arrest for four weeks where we monitor her round the clock watching her manure, giving many feedings and taking her to grass at least twelve times daily or whenever she catches us and whinnies…we respond.

The University of Georgia says it is most rare to ever see a case like this, probably first and foremost they never make it to the University which is why Boo was written up with photographs and now they are doing an artist's rendering of the operation. The University has promised us a complete set of everything, which I will pass on to the Journal and another major horse magazine has requested the information. Why, go check your wormers and I bet you find nothing on the TAPE WORM!

In my talking with UGA, the Strongid Co., rep. and my investigations in the Merck Manual I find that one of the products that is effective is "Pyratel Pamoate" at double the weight dosage, and according to UGA done once yearly at double weight. We have always rotated between an Ivermectin and Strongid but had no idea, as I'm sure most do not that this can even exist.

Don't listen to me though, check with your vet and look it up in Merck. The Strongid Company told me that according to FDA Law they were not allowed to advertise their product for effectiveness against the tapeworm, which made me angry. But has anyone noticed lately the new Ivermectin/Rotectin rotating program now out? Guess what, it is pyrantal pamoate. I'm looking forward to the surgery write up and will pass it on to you, as I hope no one will ever have to see what Jerry and I went through with Boo….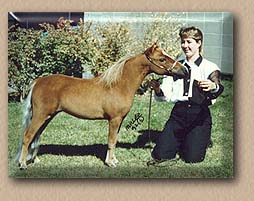 Paradises' Boo Who the 1992 Reserve National Champion yearling under 28" with handler, Portia Sue Owens. "Boo Who" was a son of Mini Vista's Peek-a-Boo.
Boo was one of the only minis bred by David Diemer, then sold to Judy Schweitzer now of Calif. then on to us. Boo and Evan's Mike, our three time top ten stallion produced a yearling 28" and under AMHA Res. National Champion in '92. Boo was 60 days pregnant during the operation, and although that is farthest from our concern, as of this writing she is a survivor and we had a lot of prayers coming in from all over the country. Thank you all.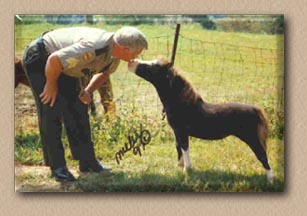 Please see Part II for the text write up and surgical pictures which are graphic. Also, on a happy note Boo went on to be bred to DBarD's Andy-versary and produced the little black and white bald faced overo filly that is seen in the Sheriff's picture I call "The Kiss".
please click on the red horse to go to the next page showing the tapeworm surgical procedure and pictures.