Please click on the navigation bar on the right to view our site
Millers Miniature Horses Presents...

A SAMPLING OF THEIR


Notice on 12-08-04 Click here to see our
New Message Board

          Enter Miller's miniature horses world of AMHA and AMHR pedigreed equine. Our small paint equines come in pinto, frame overo, splash, sabino, medicine hats and primitive colors.   Go back in time to connect "Sample" to the Brislawn Reserve home to the Spanish Barb Mustang, Cayuse, Buffalo Horse and old Indian Plaines Pony.

Click on the pictures to see story and pedigrees
Miller's Sample
this Overo
Now standing to approved mares.
Ayer's Mini Red
Questionmark

Miller's Calico's
Blue Eyed Chaps
SOLD and Congratualations to Dale Myler of the World Famous Myler Bits for his purchase of Chaps!

      We have gathered great Links to Educational, Genetic, Medical and Historical sites to make your visit memorable. We have also posted a link to the Stolen Horse Board. We have a Trading Post with sales of all sorts including consignments. Visit our Pedigree Search Page with reference backup in hard copy from IMHR, Equuleus, A and R and Shetland (both U.S. and Scottish) stud books, old catalogs, old Miniature Magazines and stories as told by the old foundation Breeders themselves.

        The Keeper of Memories is found at the Photo Gallery where you will not only find horse pictures but also the old breeder pictures and friends. The Rainbow Bridge Link has my story version with a Memorial for People and Pets we hope you will find joy in. I have logged many of my Articles in Print here. My latest article on the "Frame Overo" lethal white gene will show that we have an unending line of genetic overos in every generation back to the inception of overo time, as proven by its dominance. I have listed just a sampling of my vast library of books that I have read line by line. I look forward to posting your links here just email me and let me know you would like to be added. We have a small select herd of horses and we sell out yearly, so this site is based on information to share, not necessarily just sales. Because of this fact check back often, I have many thoughts flying and will be adding more sites as we go. We invite you to get to know us in "Our Profile" and hope you will visit our "Overo Archive".

      Our industry holds many great Web designers. I chose Sam and Rain Silverhawk for my custom graphics and web design, as they were willing to take me on as a student first and secondly patient enough to put up with my unrelenting flow of ideas that they creatively have brought to life here. I would also like to introduce you to Charles and Vicky Littleleaf. Charles new CD "Ancient Reflections" will be heard here in the Trail of Tears and Northern Plaines songs done in the Native American Flute. Now…please enter and enjoy my gift of information to you I look forward to hearing from you, and want to thank you for taking the time on this vast "net" to come visit with us.
Jerry and Carolyn Miller
Choose a page from the drop down menu and press go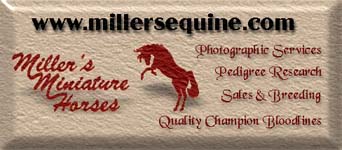 Animated Horse compliments of
>

Disclaimer: (Content on this site subject to errors and or omissions.)
Copyright © 2001- Photos & ContentMiller's Miniature Horses
Graphics Sam Silverhawk, ALL RIGHTS RESERVED.
Hosted by Silverhawk's Creations