Please email me if you are interested in reciprocal links with MMH
BREEDERS




Copperas Creek Farm Miniature Donkeys



In Minn. visit
Bear Valley Mini Horse Farm



Horses HQ A Valuable Horse Directory and Information Resource



Buying, Selling or Trading this is a must!
visit Lucky 11 Farm



Miniature Donkeys, pygmy goats
visit Squaw Valley Miniautes



Sara Dillard of
Hephzibah Hobby Horse Farm



Porter Ranch Of Calif.
Quality AMHA Miniature Horses



Visit Honken Miniatures
in Faribault, Minn.



Visit Riding Mountain Minis
of Canada
Exclusively Miniatures Sale Board



Visit Hunter's Pony Farm
Sport and Performance Ponies



Mel & Maureen Storm
of Stormhill Miniatures



Please visit Zill's Miniature Horses
in Wisc.



Visit HorsesnTack
For Transport and Minis



Visit Little America
for colorful Arabian type Appaloosa Miniatures



Miniature Horses and Donkeys



Shetland and Miniature Web site




Dream Maker Miniatures



Carolina Horse Site




Stop by Kent & Jennifer's to view their
Appys, Pintos, and Buckskins.



Pat & Gerry of
Broken M Overos



Michael & Jenny of Terra Star Ranch
Classic Shetland Ponies, Miniatures Horses Washington State Personal Ponies Director



Meltyden
Miniature Stud in N.S.W.



Visit Rod & Tana Fowler &
Flaby's Medicine Man



Gary & Carlene
Briar Patch Minis



Les & Getitia Matheny
Buckeye Walnutcreek Farm



Please visit Carol at
Mini Magic



Dawn and Tommy
Lost Spoke Ranch



Please visit my friends Dwight and Jan
at Circle S Miniature Overos




Please visit Sharon at
Pearl Creek Farm



Bonnie Jennings
Sundancer farms



Deb and Rod Henry
Birchwood Miniatures



Barefoots
List O Links and Discussion Board



Sandi and Bob of
Country Star



Beau and Brenda of
Landfair Miniatures






Visit Tammie for
Falabella Research



SunRae Miniature Stables Raising and
showing AMHA & AMHR miniatures
of National Champion Bloodlines,
they are Gold Melody Boy, Gold Bar, Rowdy, Vant Huttenest,Buckeroo and more.
Put a SunRae in your life!





Wayne and Carol Brauer
Flat Creek Mini Ranch




Mini horse
link directory



Kay Kirsch
Flights of Fancy Miniature Horses (E)
kirsch@ohiohills.com






Appaloosas for Sale Apollos Keep offers quality AQHA, IBHA, PBHA and Appaloosas for Sale - Located in beautiful Door County, Wisconsin. Young stock to finished horses. Weanlings, yearlings, broodmares, reining, pleasure, halter horses
Horse Tack Review Your place for the latest equestrian news, tack reviews and horse related articles. Monthly giveaways!


A natural horse supplement that boosts performance



Vets

Locate veterinarians all over the USA!



REAL ESTATE

Searching for Real Estate or
Horse Properties in
New England Connecticut
contact my friend Larry
and the Coover Team



Northern Idaho panhandle.
Enjoy boating, fishing, skiing, horseback riding in some of the most beautiful mountain and lake areas



Sandpoint Realty
Sandpoint's oldest and most established Real Estate firm. Homes and land for sale in Sandpoint Idaho.



The Bead Freak
Silver and gold wire wrapped jewelry



Diamond Pacific Lapidary Equipment
Your online catalog of Diamond Pacific lapidary tools. Cabbing units, rock saws, tumblers, jeweler supplies



Kilns Kiln Depot offers a full line of gas and electric kilns for the hobbiest and commercial production kilns. Ceramic kiln, Glass kiln, Pottery kiln, Raku kilns, Stackable kilns at wholesale kiln prices.



Free Gas - Save 25% on Gas or Deisel at any service station of your choice.Other features include Roadside Assistance,Free Cruises,Free Airfare,50% off on Golf,Skiing,Snowboarding,Prescription Drugs,Eyewear, and much more.Even earn free gas.



Flintknapping - Stone Age Trading Company flintknapped stone knives, arrowheads, tomahawks and spears. Jewelry and Native American collectibles. Flintknapping supply and Olympic Kilns.



Cherokee Outpost Knives and Swords - Knives, switchblades, folders, fixed blades, assisted opening, tactical, swords axes, daggers, medieval armor, katanas and more at huge discounts. Dealer of 15 years for Boker, Buck, Combat Elite, Beretta, Darrel Ralph, Benchmade, Colt, Case, SOG, Harley Davidson, Gerber, Paul Chen, and more



Red Rock Raven Collected Native American Fine Art works of Artist: Michael A DiGirolamo available now in Lithograph and Giclee Print Fine Art for sale, Native American Art on Canvas; Giclee and Lithography Print. Commission Portrait work available



Mike & Tanya




Ancient Japanese art Gyotaku







Indian art from quiversets to feathers from beads to weapontry.



Dream Catcher Feather Spirit Jewelry Native American cards, poetry indian smudge ceremony decoration.



Necklaces, bracelets, earrings, agate, stone jewelry, dreamcatchers, clowns, clown dolls



Coastal Virginia's Assateague Indians.



Celestial Spirit
8 Gallery Exhibits of Rare & Collectible Jewelry






Eagle Nest Collectibles Vintage Toys and Books



Native American Indian Art



Native American Indian Dolls Jewelry and Books



Coover Team
Conneticut Real Estate






Visit The Rare Godber Burnham Turquoise Mine



Cultural Bridges
For All Nations Angel Food Ministry



Stone Age Trading Company
Art of Flintknapping



Teresa Blake
Blake Show Horses



Lea & Tony Miller
Windy Willows Ranch



John & Sandy Jones
RNB Ranch



HORSE FORUMS



Miniature Mule Society







The Equestrian Meeting Place






Bulletin Boards HQ
categorized resource directory for everything about bulletin boards.






Lilbeginnings Mini Horse Forum



Visit The Colorful Miniature Horse Egroup & Free Horse & Tack Classifieds Board at:




Please visit
our Pinto Miniature Horse Board



REGISTRIES

Int'l. Spotted Horse Registry
& great horse links





American Shetland Pony Club
and American Miniature Horse Registry





American Miniature Horse Association




MUSIC

Native American Flute Music
Charles and Vicky Littleleaf

WEB DESIGNERS

Webdesign and hosting of this site by
Silverhawk designs



LC Basic Webpage Design

DIRECTORIES AND SEARCH ENGINES


OTHER INTERESTING PLACES


Onyx and other gems buying and caring tips.

Choose a page from the drop down menu and press go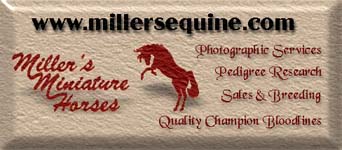 Photos and Content Copyright © 2005 Miller's Miniature Horses
Web design by Rain Silverhawk

Graphics Copyright © 2001-2005 Sam Silverhawk. All Rights Reserved

Animated Horse compliments of
>

Disclaimer: (Content on this site subject to errors and or omissions.)